- Company
Interview with GAMOMAT about their passion for gaming which is only matched by their passion for saving the future.
Gaming International Online arranged an interview with GAMOMATs founder Dietmar Hermjohannes. He spoke about starting the initiative Gaming for the Climate in 2021 to support the protection of the planet for future generations.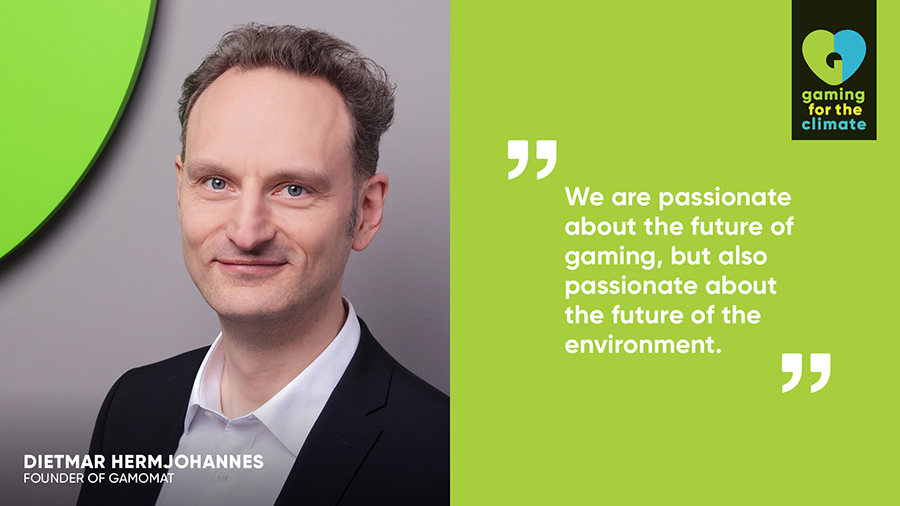 The following interview was published in the January edition 2023 of the Gaming International Online magazine.
GAMOMAT founder, Dietmar Hermjohannes spoke to Gaming International Online about the business commitment to combatting the climate crisis with the launch of its Gaming for the Climate initiative.
Gaming International Online: Can you please tell us more about GAMOMAT and your background in the industry?
Dietmar Hermjohannes: GAMOMAT was founded almost 15 years ago, built on two core principles. Firstly, a passion for games as I am an avid gamer myself and secondly, a passion for people. It's always been important to me to create a working environment where everyone functions at eye level and there are flat hierarchies. Our mantra that inspires us is 'ideas that work' and this concept flows through every part of the business.
When we first started in 2008, our team was made up of just three people. Our first major collaboration was with Bally Wulff, helping them to create land-based games. We then used our experience and success to migrate into the digital world. We took our first big step into the online market in 2014, working with Whow Games, which was an invaluable opportunity and learning experience for us.
Since then, we have released many successful games like Ramses Book, Crystal Ball and La Dolce Vita. This consistency has led us to work with some of the leaders in the iGaming market including BRAGG Gaming (Formerly Oryx Gaming) and since 2019 we have been working in the international online market exclusively ever since. Our product portfolio has gone from strength to strength and now includes the fantastic Fire series.
GIO: What is the Gaming for the Climate initiative? Where did the idea come from, and what are you doing exactly with this initiative?
DH: The idea evolved from GAMOMAT, not only being passionate about the future of gaming, but also passionate about the future of our environment. This passion is the driving force behind the launch of our 'Gaming for the Climate' initiative, where we donate a share of our revenue from selected games to support conservation projects. It's proven to be a great way for us to merge the worlds of gaming and environmentalism.
The debut gaming title we launched as part of the 'Gaming for the Climate' initiative was Book of Oasis in 2021. The game itself is styled as an underwater quest on the hunt for treasure. This inspired us to join forces with marine protection charity, Healthy Seas. As part of our partnership, a portion of our revenues generated by this title goes to them directly, helping in their ongoing pursuit to protect marine life. This includes targeting abandoned ghost nets, plastic removal, collaborative projects with local fishing industries and educational workshops.
GIO: How will you grow the initiative?
DH: We have ambitious plans for this initiative and that is why we welcomed Monkey Mania as the second game to join the initiative. In November 2022, we announced that Monkey Mania would now support Borneo Orangutan Survival Deutschland (BOS). A 12.000 Euros donation was made to kick off this partnership and we'll follow this with regular donations across the year funded from a share of our revenues generated from Monkey Mania.
BOS works actively to protect the Mawas forest in Borneo and our donations will help build dams, replant peatland areas with native trees and fund patrols to protect the area from fire and illegal activities.
These charity partnerships are just the start for us. The global effort to save our world is ongoing and we intend to develop our Gaming for the Climate initiative with a new game and charity partnership each year to demonstrate our commitment to the cause.
GIO: Do you have a CSR strategy, and what is GAMOMAT doing for Social Responsibility?
DH: GAMOMAT has a very clear commitment to Social Responsibility. Our organisation is built upon a foundation of robust values that positions people and the environment they live in at the very centre of everything we do. Focusing our operations on these principles has allowed us to nurture a company culture that is rooted in ecological and social sustainability.
We believe that only through our actions can we truly make a difference and benefit our community. Our absolute commitment to pursuing our charitable goals is reflected in the range of social and ecological initiatives that we're actively supporting. One of the biggest issues affecting our environment is the over production of Greenhouse gases. To combat this, we worked with independent experts to launch a GAMOMAT CO2 compensation scheme that is already hitting targets by off-setting our carbon footprint.
From a social perspective, mental health and personal safety are also strong focus points for us. GAMOMAT actively supports several initiatives that are close to our roots as a German business. Among the initiatives we support are Krisenchat (Crisis chat), Chancenstiftung (Opportunity Foundation) and the social organisation Aktion Mensch.
GIO: What would you wish for the future in this topic of the iGaming industry?
DH: The iGaming industry is financially strong so it only seems fair that we all give back and get involved. We see it as our duty to donate part of our revenue to greater causes that can benefit the next generation. It's my wish to see even more companies from our industry taking this approach and investing in projects to protect our future.
You can find the whole interview here as well.